The mobile application revolution
Posted on 8th Apr 2016 15:19:01 in
Hello again people I pray and hope you have all being well and working hard to attain your dreams and goals and having fun in the process.Today I am going to continue on the issue of mobile appications and how they are shaping and influencing the world we live in today.
In today's mobile app market creating a unique and fluid user experience (UX) IS KEY TO MOBILE APP DEVELOPMENT. Who would want a mobile app that does not meet their immediate needs,meets their requirements,is not a headache inducing experience...ife is hard already why complicate it more right?In mobile app development there is a need to develop apps that adopt and meet a user centered experience that satisfies the end user so in the development process you cannot ignore such facts.Improved User Experience translates into many benefits such as
Loyal user base
Reduces support/administration costs
Increased customer satisfaction (Naturally!) :-)
Increased sales volumes
Gives a competitive edge
A well thought out mobile app solution whilst providing a fluid User Experience (UX) it also needs to conform to overall digital strategy,offering a seamless user experience.To help you understand why mobile applications are helping to revolutionise technology I am going to share some images so that you might be better able to visualise the revolution of the mobile app industry check it out below:
Okay I hope you now understand why the mobile app revolution is going onwards and upwards,the train is moving forward not like those old time trains in the Wild West but rather the latest bullet trains found in Europe and ASIA...The growth of mobile app industry is staggering so I wanna share this with you guys so you understand where i'm coming from,figures don't lie.
We can't neglect importance of mobile application development here in Africa today and why it would be perilous for African industry to ignore and be left behind whilst the rest of the world moves forward,check out research below to confirm what i'm saying
We cannot ignore fact that PC usage has dramatically being dropping due to increasing market penetration of mobile manufacturers...why have a PC when you can carry around a minituarised but powerful pocket PC in your pocket with you wherever you go all day everyday.So for al those in business I tell you ignoring the increasing relevance of mobie apps in today's 21st century society is very unwise and those who are wise will invest into mobile apps for their business for increased customer reach.With Android and iOS systems you can target the markets you want to get your message across to and this enhances your chances of growth,checkout Share of Time spent on mobile vs desktop platforms as of May 2014: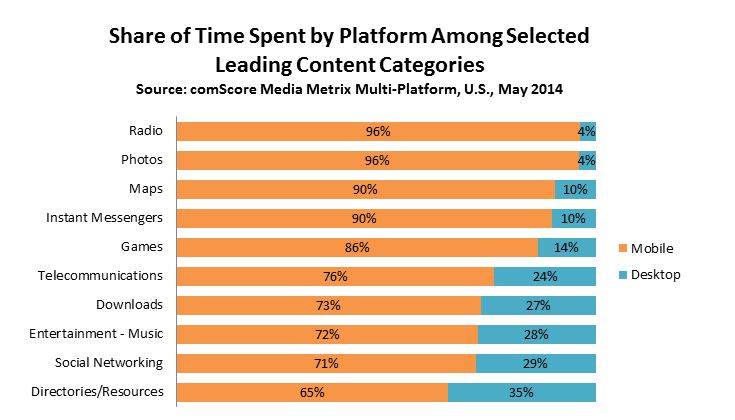 No matter what your business is a mobile app can help you get and retain customers as you can see on all these images I have shared,figures and statistics do not lie.Some of the biggest benefits you can experience for your business organisation are:
Reinforce and build brand loyalty
Increase your accessibilty and visibility for your target market
Connects you with on the go customers
Increases exposure across a wide array of mobile devices and reach new potential target markets
These are some of the number of global users worldwide and it's interesting to note my earlier point about desktop vs mobile check it out for yourself below:
To close off my blog post I want to present these figures found through research/statistics of why the next generation is the future where the revolution of mobile application development and mobile applications for business are concerned:
50.3% of Ecommerce website traffic comes through a mobile device (Shopify)
60% of global mobile consumers use their mobile device as their primary or exclusive internet source (Internet retailer)
Mobile ecommerce will account for 30% of global ecommerce sales by 2018 (Juniper Research)
79% of smartphone users use apps everyday (Techcrunch)
Apps made up 47% of Internet traffic,compared to PC's 45% (ComScore)
80% of consumers use smartphones to shop (ComScore)
The average smartphone user downloads 3 mobile apps per month (Tech Crunch)
So their you have it ladies and gentleman,why the mobile app revolution is increasing and why any responsible corporates/businesses cannot afford to ignore for the growth and increased presence and profitability of their businesses..thank you for reading until next time
Lloyd Mapuranga,
NMap Technologies